Oh, look, it's 2012.  Time for the obligatory year-in-review post, full of pithy sentiment, crafted to make you stop and think, and put forth in an effort to change the world, one person at a time.

Heh.
Or, in keeping with the tradition I began last year, I'm going to paint a 12 make a list.
Last year, I listed things that annoy me. This year, just for a change of pace, I'm going to list things I value and appreciate.  Things allowing me health and comfort and/or things I am otherwise fond of or drawn to for no particular reason.
Jesus
My home
My family
My job
Health insurance
Medication
Health and beauty aids
Central heating and air
Indoor plumbing
Electricity
The Internet
The many brainchildren of the late Steven Paul Jobs and company
Hazelnut coffee creamer
Splenda!
Honey-crisp apples
Blue Bell Homemade Vanilla ice cream
Chick-fil-A
Coke Zero slightly slushy
Pillows
Blankets
Songbirds
Clean sheets
Champagne
Red, black, red and black, red and white and black, red and gray and black, red and silver and black, or any combination thereof
Leather
Cow meat
Technicians!
My vintage elf collection
Naps
Jack McCoy
Rick Bragg
Salt-and-pepper hair
Men in ties, assuming said tie is paired with a LONG-sleeved shirt
Gentlemen who open doors and pull out chairs for ladies
Gentlemen who guide a lady's steps by lightly touching the small of her back
Good manners.  Manners are sexy. So is good grammar.  And intelligence.  Hot, hot, hot.
That hip thingy on men with cut abs.  I don't know what that is called, but I like it.  A lot.
Scrapbooks
Leroy Jethro Gibbs
Giraffes
Angie Harmon
Mark Harmon
Pralines
Snow (On a day I don't have to drive in it with all the idiots in Atlanta)
Rain (On a day I don't have to drive in it with all the idiots in Atlanta)
Leopard print
Pedicures!
Music (Good music, not that crap you hear on the radio now. Ack.)
Steve Perry
Dooney & Bourke
Michael Buble's version of Santa Baby
Angels (Not figurines of angels. REAL angels.  The ones you don't see but know are there and the ones you do see but don't recognize.)
DVR
Wi-Fi
Google!!!!!
Grilled cheese
Mary-Janes (the shoes, not weed or the candy)
Pearls
Atticus Finch
Gingerbread men
French bread
Blueberry pancakes
Silence
Sterling silver
Scarves!
Storage Wars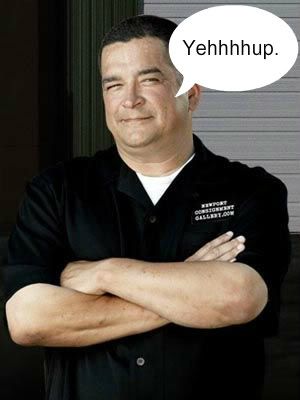 Bootcut jeans
Freedom of: thought, will, speech, religion, etc., etc.,
The King and I (with Yul Brenner)
Literary allusions
Captain Kangaroo
Christmas stockings
The episode of The Andy Griffith Show where Opie is saving his money to buy his girlfriend a coat
Maureen O'Hara
Mammy
Briscoe & Logan
Monograms
The State of Georgia
Roller coasters*  **
Handwritten notes/letters
Words, word games, word puzzles, word play
The word salamander
Rainbow in a puddle
Pegging out the AC in a hotel room
Mini saltines
Thank you notes
Citrus fruit
A quick wit
Starfish
Flip Flops
Carrot cake
Doris Day
The SEC (ball, not stocks)
Shoulder massages
Fig preserves
Good non-roofing tar tasting coffee
Redddddd Robbbbin. Yummmm!
Crushed ice
Boots
Wayfarers
And…
Lists.
*Of love
**Say what?